Our Product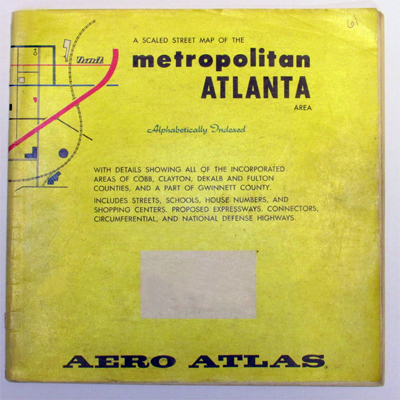 The First Atlanta Aero Atlas®, 1961
Since 1959, Aero Surveys of Georgia has been creating high quality, detailed Aero Atlas® maps of Metro Atlanta and the state of Georgia. Because we are a small, local, family owned company that maps Georgia exclusively, we concentrate all of our time and effort daily in keeping the area we map accurate and up-to-date beyond compare. As a result, we are able to publish maps of Georgia that surpass national and international map providers. Evidence of this fact is cited in our long list of customers, including fire and emergency services, local and state government, delivery companies, service providers, real estate, small and large businesses and personal use.
We are cartographers (map makers) and not merely data collectors like our competition. The software we use to produce our maps is graphically driven not database driven. This means a cartographer hand placed the road names on each street as opposed to computer generated placement. Our process allows us to display ALL street names along with parks, schools, shopping centers, zip codes etc. for large areas at any scale which is not available with our competitors' maps. In addition, our Aero Atlas® maps are not susceptible to satellite interference or electronic malfunction, and map information is not influenced by paid advertisements. These facts combined with over 50 years of working closely with local government set our Aero Atlas® mapping products apart from the rest.
We have what you can't find anywhere else! Here's why...
We are a small, local, family owned map publisher.

We have been mapping North Georgia exclusively (not the whole world) for over 50 years.

We use our own exclusive data

that has been compiled, collected, and compared in-house using multiple local resources like: recorded plats, current aerial photography, 911 listings, local government contacts, post office listings, newspaper articles, local news, and on-road field checks, to name a few.

Our map database is continually updated daily

and every bit of information including road alignments and names have been placed on the map by hand to ensure that nothing is omitted or overprinted, and all names are legible.

Our map database includes information not found in other map products

like: private street names, land lot and district info (real estate), subdivision names, zip code numbers and boundaries, and incorporated city limit boundaries.

Our wall maps are ALL made to order.

Each wall map is printed at the time of order (not mass produced) thus ensuring your map will be accurate, up-to-date, and customized to meet your needs.

When you call us, we answer the phone!

We are available to help you and answer any questions about our products. Do you have our current map book or data and can't find a street? Call us...we will find it for you.
Our Past
In Loving Memory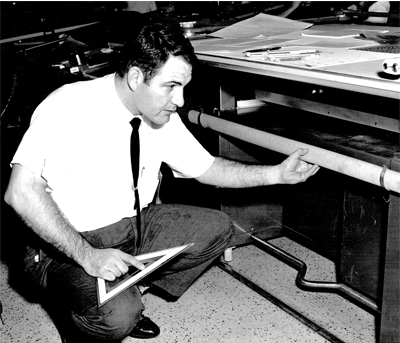 Gene Roberts, 1961
Aero Surveys of Georgia, Inc. was the product of an idea in the late 1950's that Atlanta would grow and someday become a large metropolitan city. Based locally in Cobb County, Georgia since its inception, our company has published maps of Metro Atlanta since 1959. Aero has been family owned and operated by Gene and Carol Roberts since the late 1960's. Gene Roberts, who was originally hired to design the first map book cover, developed the Aero Atlas® into the quality product it is today. Because of his vision, Aero Atlas® maps have remained viable for over 50 years.
The first Aero Atlas® map book was produced in 1961 and included Cobb, Clayton, Dekalb, and Fulton counties. As Metro Atlanta expanded to include adjacent outlying counties so did Aero. In addition to our most popular Metro Atlanta Aero Atlas® map book, outlying counties were mapped, and new atlases were published to cover most of North Georgia.
With the passing of Gene Roberts in 1994, production duties were assumed by Gene and Carol's son, Tom, who along with his sister Paige had been raised in the business. Also during this time, the decision was made to transfer our maps from film into electronic format. This process was done entirely in house and took 6 years to complete. The first electronically produced atlas was released in 2000. As a result of this conversion, additional mapping applications were created, including: the Aero Atlas® Viewer mapping software, custom wall maps, map books, and digital files.
The success of our company through the years is attributed to the loyalty of our wonderful customers and employees and the perseverance and hard work of the Roberts family: Gene, Carol, Paige and Tom.
Our Present and Future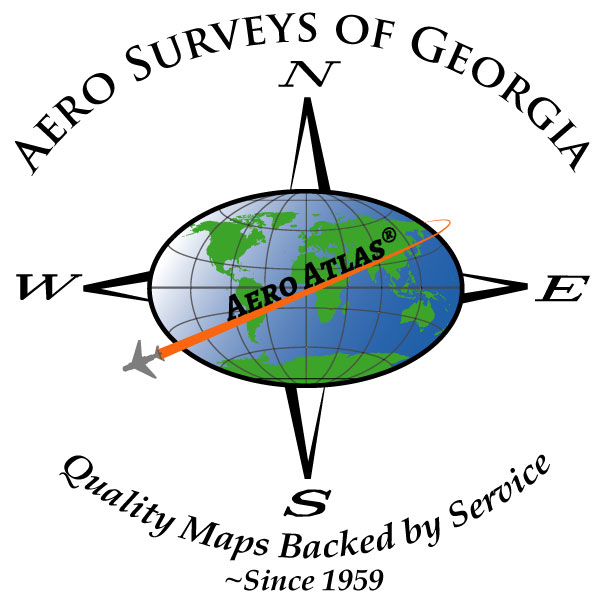 With the advent of new mapmaking technologies, such as GPS and free internet mapping applications, and the downturn in the economy, the mapping industry has experienced its fair share of difficult times. Aero is the only mapping company of its kind still in business in the state of Georgia. Aero Atlas® map books still account for the majority of our sales every year though wall map production continues to gain ground. While technology will always play a vital role in the future of mapping, we believe that it will never fully replace the need and functionality of a quality paper map.
January 2013 marked the transition of Aero to second generation family ownership under the leadership of Tom Roberts. During this time, company operations moved from our storefront in Marietta to a home based office also located in Cobb County, Georgia. Continuing to grow our map coverage area, we released a custom map book of Gilmer and Fannin Counties for the central North Georgia mountain area in 2014. In response to the need for up-to-date maps by emergency management agencies, we will release custom map books of Polk, Haralson, and Heard Counties in 2015 for the West Georgia area. This will enable the production of wall maps and provide software coverage for these areas as well.
As we look toward the future, we have collected and created detailed maps for fourteen (14) additional North Georgia counties to be released as demand warrants. Today, we remain as we started... a small, local, family owned business. We are grateful to continue what our family began over 50 years ago. We will always strive to provide a quality product that we are proud of. We look forward to serving you today and in the years to come!